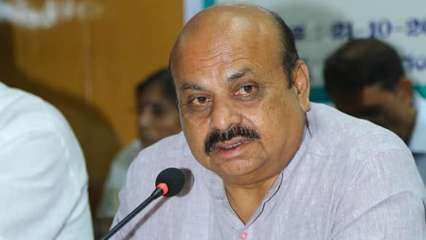 Basavaraj Bommai, the Home Minister of Karnataka, has tested positive for coronavirus disease (COVID-19), the minister himself informed on Wednesday. He said that though he is healthy and with no symptoms (asymptomatic), he has opted to isolate himself at home.
"A staff at our residence tested positive for COVID-19 yesterday. Following this, a COVID-19 test was also conducted on me, the results for which came back positive. I'm healthy and do not have any symptoms. I've chosen to isolate myself at home," the minister tweeted in Kannada.
"I request all those who came in contact with me during the past few days to get tested immediately and take appropriate precautions," Karnataka Home Minister Basavaraj S Bommai wrote in a follow-up tweet.
ಇತ್ತೀಚೆಗೆ ನನ್ನ ನೇರ ಸಂಪರ್ಕಕ್ಕೆ ಬಂದಿರುವವರು ಕೂಡಲೇ ಪರೀಕ್ಷೆಗೆ ಒಳಪಡುವಂತೆ ಹಾಗೂ ಸೂಕ್ತ ಮುನ್ನೆಚ್ಚರಿಕಾ ಕ್ರಮಗಳನ್ನು ಕೈಗೊಳ್ಳುವಂತೆ ಕೋರುತ್ತೇನೆ.

— Basavaraj S Bommai (@BSBommai) September 16, 2020
 There has been a surge of COVID-19 cases in Karnataka lately as Chief Minister BS Yediyurappa and Leader of Opposition Siddaramaiah had all tested COVID-19 positive, as well as Karnataka Pradesh Congress Committee (KPCC) president DK Shivakumar.
Five ministers from the southern state have also tested positive for COVID-19.
In meanwhile, experts have said that after unleashing its fury across the country, the coronavirus pandemic has now waned over northern India and instead cast its shadow on the southern states, with health experts claiming that Kerala could be starting on its second wave while Tamil Nadu successfully passed its peak.
Meanwhile, with over 90,000 new cases reported in the last 24 hours, India's COVID-19 count on Wednesday crossed the 50 lakh-mark, while the death toll has crossed the 82,000-mark as well.
According to the Union Ministry of Health and Family Welfare, as many as 90,123 new COVID-19 cases and 1,290 deaths were reported in the country in the last 24 hours, marking a significant spike.
In Karnataka, the COVID-19 figure stands at 4,75,265 cases with 3,69,229 patients recovered and 7,481 fatalities.